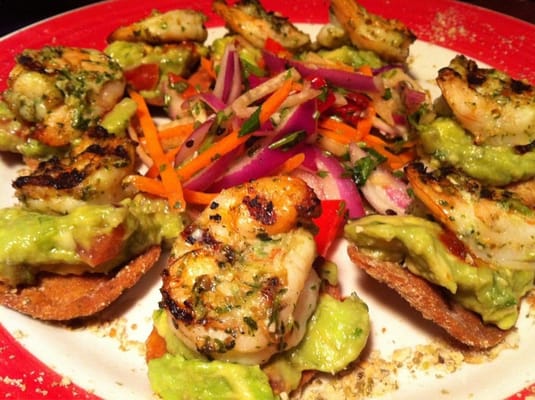 GRILLED SHRIMP TOSTADA BITES
Z'Tejas Southwest Grill Copycat Recipe
Guacamole:
3 avocados
1 tomato, diced
1/2 red onion. diced
juice of 1 lime
3 tablespoons chopped cilantro
1 jalapeno pepper, deseeded and diced
1/4 cup sour cream
Grilled Shrimp:
24 shrimp, peeled and deveined
1 cup cilantro pesto
guacamole
1/4 cup chipotle puree
Place all guacamole ingredients in a bowl and mash using a whisk. Salt and pepper to taste. Marinate shrimp with cilantro pesto and place on skewers. Grill about 2 minutes per side. Using your favorite chip, place a dollop of guacamole then chipotle puree then top with shrimp.