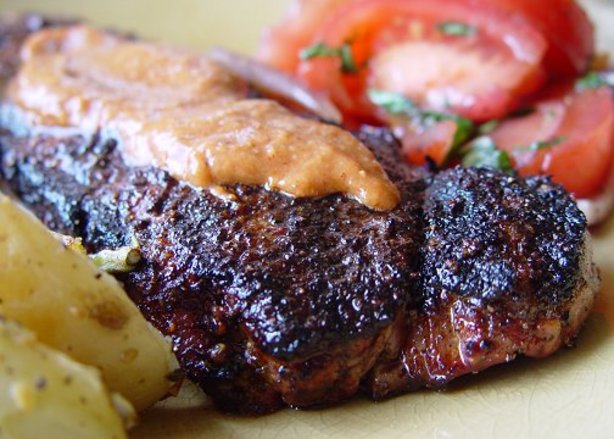 SPICE CRUSTED STRIP STEAK
Mesa Grill Recipe
2 tablespoons ancho chile powder
1 tablespoon Spanish paprika
1 tablespoon ground coriander
1 tablespoon dry mustard
1 1/2 teaspoons dried oregano
1 1/2 teaspoons ground cumin
1 1/2 teaspoons chile de arbol
kosher salt
freshly ground black pepper
4 (12 oz.) New York strip steaks
2 tablespoons canola oil
To make the spice rub, combine the ancho powder, paprika, coriander, dry mustard, oregano, cumin, chile de arbol, 1 tablespoon salt and 1 tablespoon pepper in a small bowl.
Preheat a grill to medium-high or preheat a grill pan over medium-high heat. Brush both sides of the steaks with the oil and season with salt and pepper. Rub one side of each steak with about 2 tablespoons of the spice mixture.
Grill the steaks, rub side down, until lightly charred and a crust has formed, 3 to 4 minutes. Flip over the steaks and continue grilling for 5 to 6 minutes more for medium rare; the steaks will be bright pink in the middle.