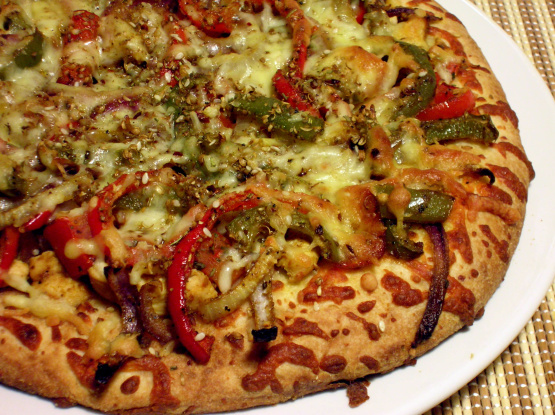 CHICKEN FAJITA PIZZA
Chi Chi's Restaurant Recipe
1/2 cup chopped onion
1/2 cup lime juice
1/2 cup vegetable oil
2 tablespoons chopped fresh cilantro
1 1/2 teaspoons minced garlic
1 teaspoon ground cumin
1 teaspoon paprika
1 teaspoon grated lime peel
1/4 teaspoon coarsely ground pepper
1 pound boneless, skinless chicken breasts, cut into strips
1 tablespoon cornmeal
1 (10 oz.) can refrigerated pizza crust dough
1 cup CHI-CHI'S Thick & Chunky Salsa Mild
1/2 cup sliced ripe olives
2 cups shredded Monterey Jack cheese with peppers
In a large recloseable plastic food storage bag, combine first 9 ingredients. Add chicken; seal bag. Turn several times to coat. Place bag in 13x9-inch pan. Refrigerate, turning bag occasionally, 4 hours or overnight.
Heat oven to 400 degrees. Sprinkle 12-inch pizza pan with cornmeal. Press the pizza crust dough to within 1 inch from edge of pan. Remove the chicken from the marinade; discard the marinade. In a large skillet, cook the chicken until no longer pink; drain.
Spread the salsa over the pizza crust. Top with chicken and olives. Sprinkle with cheese. Bake 18 to 20 minutes or until the cheese is melted and the crust is browned. Serve with guacamole, sour cream and sliced green onions, if desired.
Notes: One pound prepared pizza dough may be substituted for the 1 ounce can of refrigerated dough.